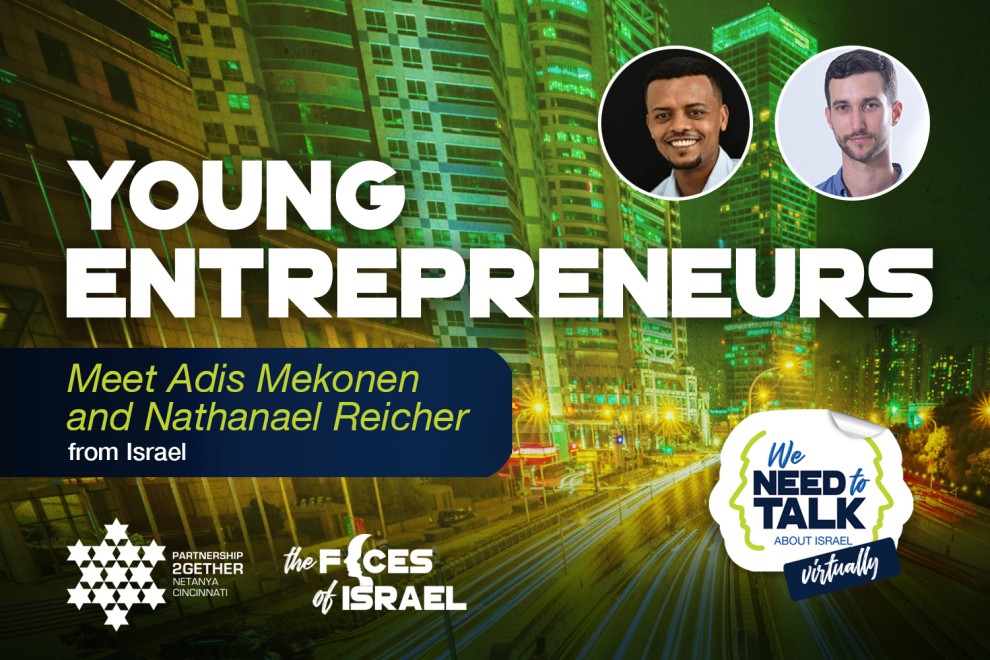 What does it mean to be an Israeli entrepreneur? And how does that look different within the current challenges of COVID-19? Join us to meet Adis Mekonen and Nathanael Reicher, two young and energetic entrepreneurs from our partnership city of Netanya who have found their unique niche in the bourgeoning startup marketplace.
Adis Mekonen was born in Gondar Ethiopia and made Aliya at the age of 12. He lived in Haifa and moved to Netanya for college. He has degrees in business management and entrepreneurship. Six years ago, he started developing the "Bogolog" game that was recently registered as a patent worldwide. The game is based on a popular street-ball game played in Ethiopia (and other places in the world) but on your smartphone.   
Nathanael Reicher is the owner, founder, and CEO of in3D LTD. The company specializes in adapting the right solution to the client's needs focusing on the world of XR – Extended Reality, among Virtual Reality – VR, Augmented Reality – AR and Mixed Reality – MR. Reicher was previously CEO and co-founder of V360 LTD. He was born and raised in Netanya and served eight years of service as a captain in a frigate in the Israel Defense Forces.
P2G BRINGS YOU THE FACES OF ISRAEL
This event is brought to you by Partnership2Together, a program of the Jewish Federation of Cincinnati. We invite you to join us to meet Israeli leaders and see some new faces from Israel. Learn from the most interesting people from Netanya—in your own living room!