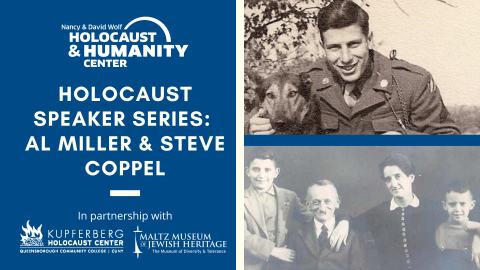 The Holocaust Speaker Series, held each Wednesday at 11:00 am, features Holocaust survivors and descendants of survivors sharing stories of life before, during, and after the Holocaust. Join us on Wednesday, April 21st at 11:00 am via Zoom with Dr. Al Miller & Steve Coppel.
Dr. Al Miller was born in Berlin, Germany in 1922. He remembers many of his childhood friends joining the Hitler Youth and wearing their uniforms with pride and cutting him out of their lives for being Jewish. He was the last Jewish student to remain in his class until it was made too uncomfortable for him to stay. As conditions worsened, his family put together a plan to leave the country. Al departed Nazi Germany in 1937 for Switzerland, while his brother was sent to England. His parents remained in Germany, enduring Kristallnacht. The family would eventually reunite in England before immigrating to America in 1939. 
Steve Coppel is the son of two Holocaust Survivors, Trudy and Werner Coppel. Both his parents have an amazing story of survival, perseverance, rebuilding and love which is featured throughout HHC. Steve's dad, Werner, was a survivor of Auschwitz. He was the first Holocaust Survivor in Cincinnati to speak publicly about his experiences. Starting in the early 1970's, Werner spoke at schools, churches, meetings and public gatherings stressing the ills of hate and prejudice but also encouraging his audiences to stand up to them even when they didn't apply to them personally.
Generously sponsored by Margaret and Michael Valentine and presented in partnership with the Harriet and Kenneth Kupferberg Holocaust Center and Maltz Museum of Jewish Heritage.