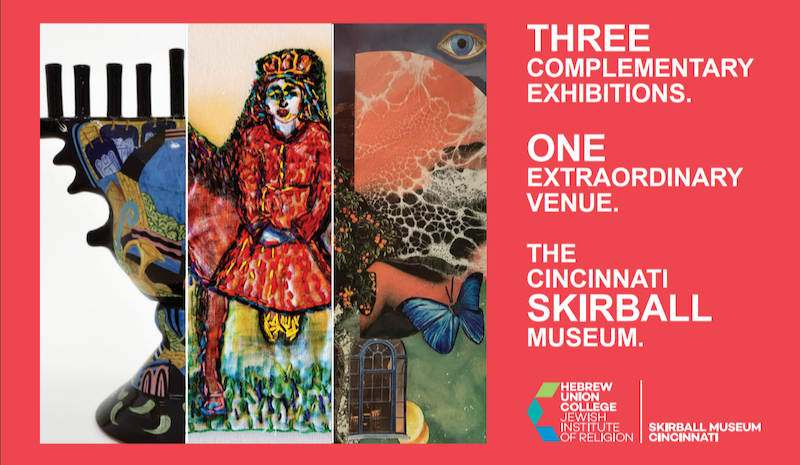 Join us at the Skirball Museum for the opening of three separate yet related exhibitions!
After a lengthy closure, the galleries devoted to Torah, Life Cycle, and Holidays and Festivals in the Skirball's core exhibition An Eternal People: The Jewish Experience, are once again open with new cases, new signage, and ritual objects from the B'nai B'rith Klutznick Collection that have never been on view before. In these painful times it is uplifting to see old favorites in a whole new light, literally and figuratively.
This grand reopening is made even more meaningful by the opportunity to bring the work of Santa Fe-based artist Ellie Beth Scott to the Skirball's second floor foyer. For her exhibition Eve: I Understand, Scott was inspired by selected ritual objects in the Skirball collection used by women and by practices performed by women, rendering richly colored pieces using fabric, thread, paint, buttons, and beads.
Israeli artist Dana Cohen, who is among the artists whose work is exhibited in Motherhood Essence and the Feminine Divine: Cincinnati and Israeli Artists Interpret The Female Experience, reflects on the third exhibition's theme: "Israel is experiencing a difficult period in recent days, filled with pain and hardship. During these days, the role of mothers and caregivers is more important than ever... there is nothing more relevant than this." The exhibit is currently in the fourth-floor gallery and is organized by ish, as part of their mission to create intentional spaces for connection and acceptance through the arts. This exhibit brings together four Israeli and four Cincinnati artists to create eight original works of art and four additional works that interpret and "re-art" the work of their colleagues. The works respond to the power of women as community builders, organizers, and healers through times of crisis and change.

ALL EXHIBITIONS OPEN

Thursday, October 19, 2023 from 5:30 – 8:00 p.m.
Mayerson Hall, Hebrew Union College-Jewish Institute of Religion
3101 Clifton Avenue, Cincinnati, OH
Three Exhibitions - One Opening Night: Registration required.
5:30 p.m. | Reception
6:15 p.m. | Welcome: Abby Schwartz, curatorial consultant to the Skirball Museum and Marie Krulewitch-Browne, executive director of ish
Remarks: Ellie Beth Scott, Israeli artist Dana Cohen, and Cincinnati artist Avery Plummer share insights on their respective exhibitions, Eve: I Understand and Motherhood Essence and the Feminine Divine.
Sponsor: Jewish Federation of Cincinnati and Skirball Activities Fund of Hebrew Union College-Jewish Institute of Religion